Precision Engineered Solutions Custom Hydraulic Cylinders
People Are at the Heart of What We Do
We take pride in collaborating with customers to develop the most innovative and reliable products and systems. Our continual focus on achieving excellence in our level of technical expertise and quality of operations is driven by our desire to make life better for customers, team members, strategic partners, and residents of our communities.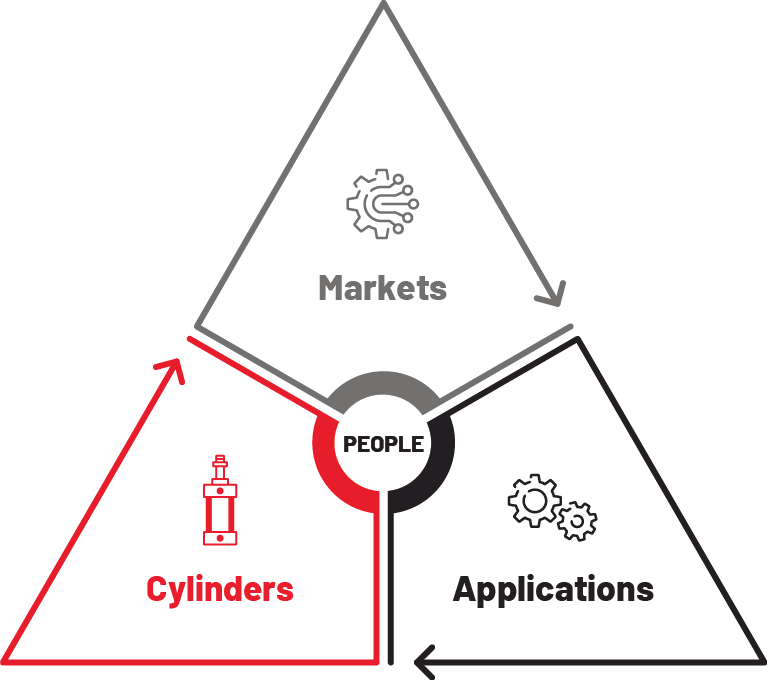 In delivering the widest range of cylinders to meet the most demanding specifications, quantity requirements, and quality standards, we always remember that helping people meet their goals is why we are in business.
People Who Make a Difference
We are proud that so many first-rate people have chosen to build their careers with us. As a result, we are committed to investing in them inside and outside of the workplace to achieve retention rates and a work-life balance culture that set the industry standard. We are also committed to establishing and maintaining strategic partnerships with customers so we become and remain their top-performing supplier. In addition, we value our role as a community leader by contributing time and resources to schools, charitable organizations, and special events in the places we live and work.
Applications
GBI serves most of the major OEM's in the markets they sell to. Their hydraulic cylinders and accumulators are found on truck cranes, hydraulic cranes, utility trucks, material handlers, mining and forestry equipment, aerial work platforms and aircraft ground support equipment, defense and government projects, fire service vehicles and waste management.
Products
Great Bend Industries specializes in unique designs, and short runs of hydraulic cylinders. Their products range from 2.00' through 13.50" bore and strokes out to 720". Virtually every feature used in hydraulic cylinders is available through their highly qualified Engineering staff.
These features include: Mounts – pinhole, pin tube, tang, clevis, threaded, and trunnion; Integrated counterbalance valves; Special corrosion resistant rod platings; Chromed bores; single- or double acting; Single- or multi-stage; Low temperature seals; End of stroke cushioning; Linear position sensing with feedback; Bolted or threaded heads; Pressures up to 10,000 psi; Double rod ended; Custom designed or built to your drawings.